Personalized Skincare
Tailor your treatment with award-winning formulas!
Personalized Skincare
Infuse youth into your skin naturally!
Receive bespoke award-winning aesthetic and cosmetic medical treatments in an elegant, responsible and professional business practice.

Observ
A journey beneath the skin surface
At the Perfect-Blue Medispa we offer a wide spectrum of skincare treatments. With Observ, a state-of-the-art skin analysis tool, clients can be sure they are selecting the best treatment to fit their anatomy and needs. Its testing results are precise and accurate and shows exactly what elements of care your skin requires.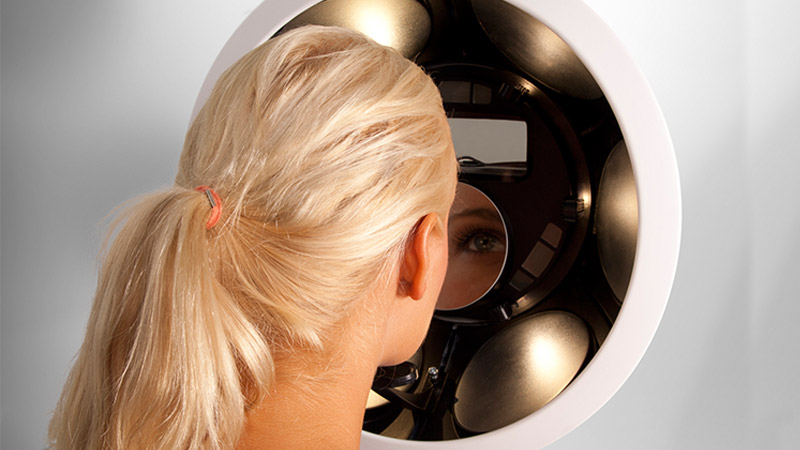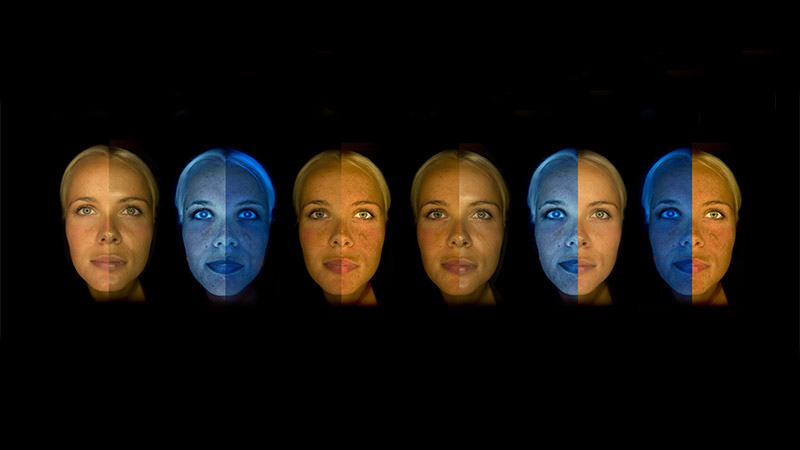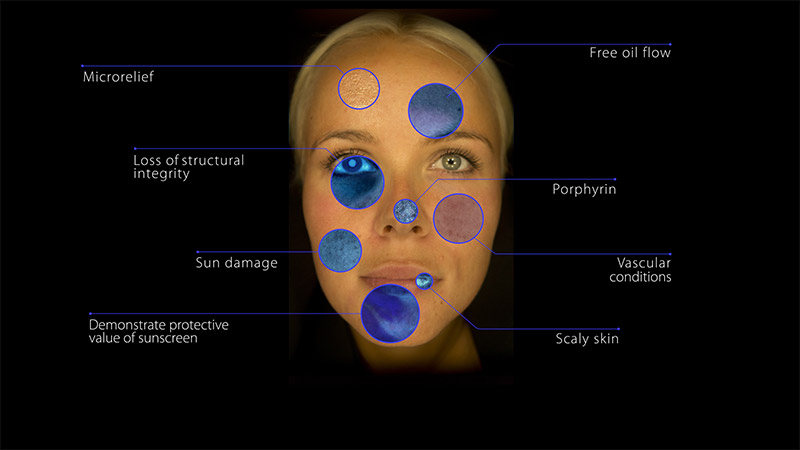 Observ is a revolutionary skin diagnostic that provides deep skin analysis. As such, it is used in all our personalized skincare consultations to create bespoke treatments for our clients. This makes Observ a thoroughly effective tool for getting a clear image of what is happening below the skin, the extend of the conditions that worry us as well as those we cannot see with a naked eye. The technology enables us to identify accurately current problems, as well as what is needed for improvement.
Observ is equipped with the latest imaging echnology that reveals skin conditions with supreme clarity under a low amount of UV rays. The concentration of UV rays is just a fraction of the strength of natural sunlight. The procedure is pain-free and requires no lotions or ointments. It involves taking a photographic snapshot of your face with a camera. The images are then transmitted to a computer. Dr. Panayi uses the information provided to assess the skin and create a tailored treatment plan.
myHyppp
Personalized Skincare
Personalised & Bioactive Rejuvenation

During aging, cellular growth factor responses slow down, our body's capability to generate new cells diminishes and so the ageing process begins. Amongst the many treatments we offer at the Perfect-Blue Medispa to help stimulate collagen production, myHYPPP therapy is the ultimate anti-aging treatment. An award-winning therapy, myHYPPP, is designed to replenish lost collagen and elastin restoring youthfulness. It is ideal for clients who avoid using foreign materials in their body but wish to restore a naturally youthful appearance.
Origins of myHYPPP therapy
myHYPPP is a new, innovative therapy for skin rejuvenation and regeneration developed by Dr. Panayi and other scientists at the department of experimental plastic and reconstructive surgery of the Technical University of Munich.
Skin regeneration requires the same natural processes that drive the healing of wounds. It is thus in the area of wound healing that the roots of the myHyppp therapy are to be traced. All myHyppp personalized and bioactive treatments are based on the utilization of cell-free growth factor compositions known as Hypoxia Preconditioned Products (HYPPP) obtained from our own blood.
The breakthrough finding that led to the development of myHyppp was that by culturing selected cell types outside the body we can stimulate production of angiogenic factor proteins on demand. This provides a solution for overcoming the limited ability of ischaemic and ageing tissue to optimally switch on angiogenesis and repair. It is then possible to restart the regenerative process and drive it to completion.
How myHYPPP therapy functions
The therapy is based on the utilization of cell-free growth factor compositions, termed Hypoxia Preconditioned Products (HYPPP) obtained from our blood. For the preparation of the therapy, a small volume of blood is obtained from the patient's arm vein. The blood is then conditioned outside the body resulting to the stimulation of growth factor production by blood cells. Since the blood is conditioned, the final product contains significantly higher concentrations of growth factors than those found normally in blood. This mixture of growth factors differs between individuals and is unique to you.
HYPPP provides an optimized composition of growth factors similar to the one that would have been produced in the body, over time, under normal wound healing conditions. HYPPP exerts its effects through the activation of specific cells in the deep skin layer. This process leads to the production of new collagen, elastin glycosaminoglycans and nourishing blood vessels.
Why myHYPPP?
While most cosmetic products and fillers provide adequate skin hydration, they lack the ability to actively support the biological processes that slow down during ageing. The reason for this is that skin cells can only interpret and respond to growth factor signals. Regeneration requires a specific composition of growth factors that is unique to each individual.
The myHYPPP group of scientists have demonstrated that not only is the growth factor response of stress different between individuals, but also the degree to which cellular processes are driven by such growth factors significantly differs. Rather than a simple 'one size-fits-all' approach, the myHYPPP team of scientists believe that everyone deserves unique care that is personalized and bioactive; the care that nature intended for you.
The HYPPP Cream® improves skin quality by improving its pigmentation, tone, texture and porosity. It also increases the tightness, elasticity and hydration of your skin. This becomes possible through the activation of specific cells (e.g. fibroblasts, endothelial cells, stem cells) in the deep skin layer (dermis). This process functions at the molecular level via the low oxygen tension (hypoxia)-induced signaling of growth factors present in HYPPP Cream®. This signaling leads to the production of new collagen, elastin, glycosaminoglycans and nourishing blood vessels. Through the incorporation of special liposomes, as well as the removal of the large molecule fibrinogen from the composition, factor penetration into the dermis is increased.
Ideal for treating the eye region, especially dark circles and swelling under the eyes the HYPPP Eye Cream restore a youthful and captivating gaze. A miracle cream fortified with naturally derived ingredients directly fights the cause of dark circles and puffiness. Working together with HYPPP growth factors it drastically improves the appearance of the eye area, giving you a more youthful, awake and vibrant look.
The HYPPP Serum® is a highly active alternative to the HYPPP Cream®. Due to its thin consistency, it is absorbed through the skin fast which allows you to apply concentrated HYPPP growth factors under your routine skin care product.
The HYPPP Princess mask is a special formula for an intensive treatment with HYPPP growth factors. The HYPPP Princess Mask instantly provides an illuminating glow and rich care to your skin.
This highly pure composition of HYPPP factors makes HYPPP-Pure® ideal for sensitive and hyperallergic skin. The process uses the innovative HYPPP Bi-Phase® technology and is based on the sampling of growth factors in a special clean medium.
Universkin
The skincare of tomorrow
Universkin is a patented, intelligent skincare solution that provides remarkable results thanks to its unprecedented system that merges biotechnology and a holistic, personalized approach to treatment that allows doctors to tailor the formulas to each individual's unique needs. It is a breakthrough innovation that empowers doctors to be user-focused rather than product-focused offering more efficacy and better tolerance for the user. Universkin's revolutionary approach allows to reverse the effects of age and external aggressions.
It is an adaptable formula that evolves with you. The formula can be fine-tuned to adapt to changes in lifestyle, skin condition, seasonal and environment conditions. It consists of high quality ingredients in perfect harmony with the skin. All products are tested under dermatological control thus minimizing the risks of allergy and irritation.
How does la cosmetique one-to-one work?
Extemporaneous preparation
in 3 steps
First Step
During your visit to our clinic you will first be greeted by our staff who will ask you to fill out the Universkin's questionnaire which is based on your lifestyle, environment current skincare regimen and perceived skin problems. This will offer Dr. Panayi a better understanding of your skin's needs.
Second Step
Dr. Panayi will then discuss with you your objectives and concerns. He will review the completed questionnaire and examine your skin so as to establish a diagnostic. A made-to-measure formula will then be created based on the outcomes of your meeting.
Third Step
Dr. Panayi will choose those active ingredients that best target your needs and will choose the texture you prefer. To design your formula, a skin analysis is conducted through the questionnaire structured in 8 colours corresponding to the 8 main skin functions enabling the selection of the relevant active ingredients out of the 19 available. Up to 1159 potential formulas in 57 different concentrations. The serum can integrate up to 3 pure active ingredients so as to avoid the use of multiple chemical preservatives. This way even the fragile actives, freshly integrated in the emulsion basis, deliver their best efficacy. Your tailored prescription is then prepared before your eyes in a matter of minutes.